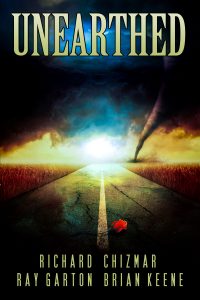 UNEARTHED by Richard Chizmar, Brian Keene, and Ray Garton is on sale now in paperback and for Kindle. Featuring…
Roses and Raindrops by Richard Chizmar and Brian Keene – A delivery to the old house on the edge of town haunts a man with horror and possibility.
The Sculptor by Richard Chizmar and Ray Garton – An artist in a dry spell awakes to find fresh stone in his home calling to be carved. Inspiration arrives, but at what cost?
Available in paperback for just $14.99 and Kindle for just $2.99