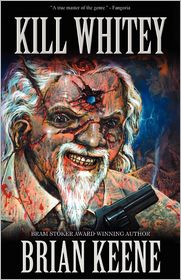 Last week saw the release of Kill Whitey in trade paperback. Click here to order it. Previously only available in hardcover, this new trade paperback edition is brought to you by Deadite Press (who are reprinting all of my out-of-print backlist).
For you digital readers, Kill Whitey is now also available for the Kindle and the Nook. Click here for the Kindle edition and click here for the Nook edition. These digital editions are brought to
you by Cemetery Dance, who also released a digital edition of Shades (a novel I co-wrote with Geoff Cooper) last week.
For a complete list of all my Kindle and Nook editions, click here and scroll down to the appropriate section.